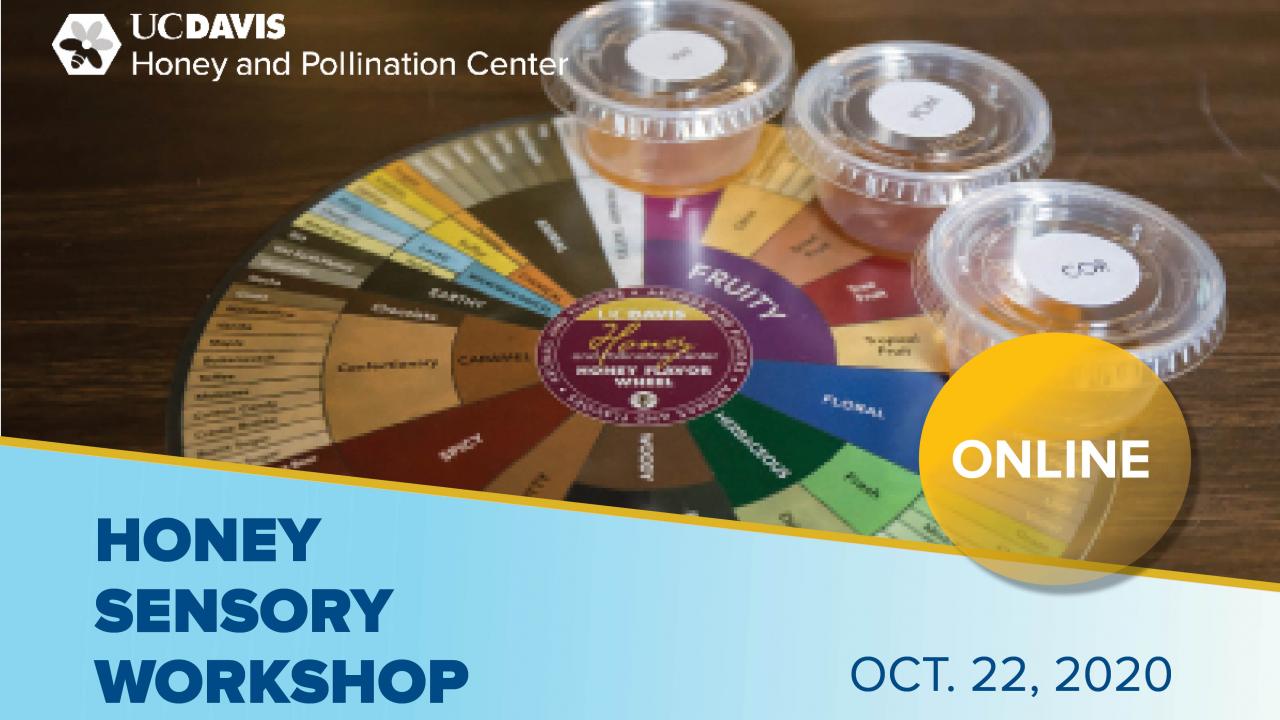 Location
RMI Sensory Building, Sensory Theater
There has been a lot of buzz out there about varietal honey and how best to understand and enjoy the honey bees' work.
The UC Davis Honey and Pollination Center is offering a one-day immersion into the complex world of honey. Each student will be guided through tastings and discussions laying the groundwork to understand the variety and nuance of honey. Presenters are master taster and Italian Certified Expert Honey Taster, Orietta Gianjorio and educator and Founding Director of the Honey and Pollination Center, Amina Harris.
Anyone who is interested in learning how to critically taste and assess honey should plan to register.
Honey Sensory Workshop
A one-day immersion in tasting and understanding varietal honey
 
Date: Thursday, October 22, 2020
Cost: $160
---
How will this work?
The course will cover all the basics through lectures and tastings including:
Sensory evaluation and descriptive analysis
Mono-varietal honeys
Crystallization
Defects
Each student will need to be ready to taste an array of honeys. In order to ensure that we are all on the same page, plan to order the supplementary educational tasting package. What's inside:
7 unique mystery honeys (We don't want to influence your tastebuds in advance. You will learn which jar is which after an exploration tasting.)
1 UC Davis Honey Aroma and Flavor Wheel
1 UC Davis Honey Journal
VALUE: $70 / Student price: $45 plus shipping
Other resources offered with the course purchase will include:
Online classroom setting to engage and interact with your fellow students
Question forum to use at your convenience
Honey tasting protocol and Pfund color guide
Honey Collection Library with over 35+ honeys and their plants
You can register for the class now! We will accept only 40 students in this inaugural program. 
---
About our Presenters
 

Amina Harris is the Director of the Honey and Pollination Center at the Robert Mondavi Institute of Wine and Food Science, UC Davis. In addition, Amina is the co-owner of Z Specialty Food, LLC.

Orietta Gianjorio, native of Rome, has worked in sensory evaluation for 20 years. Orietta holds a 3rd level Sommelier certificate (Associazione Italiana Sommeliers), an Olive Oil Sensory Evaluation Expert certificate (IOC/EU), and she is part of the Italian Registry of Olive Oil Experts. She is one of only two people in America to hold a certificate as an Expert in Honey Sensory Evaluation, and she is part of the Italian Registry of Honey Sensory Experts.