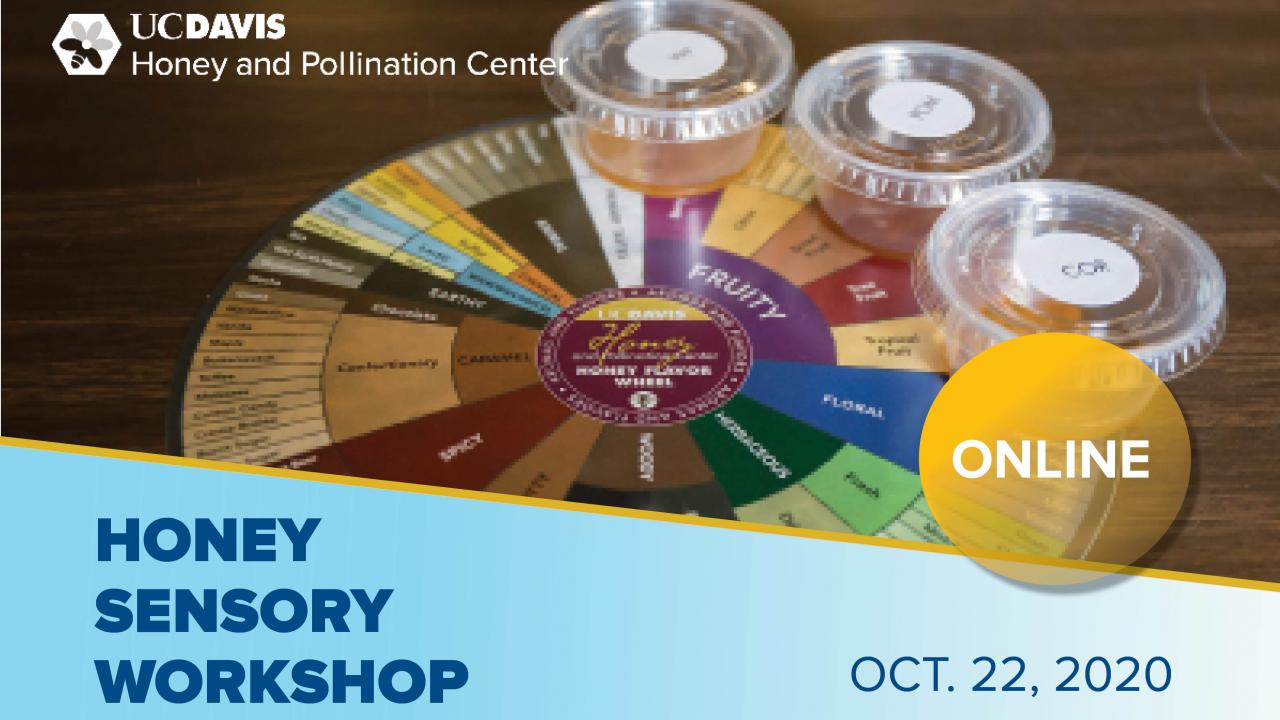 Location
RMI Sensory Building, Sensory Theater
SOLD OUT! Thank you for the interest in our inaugural Honey Sensory Workshop Online. To be added to the waitlist, please email Liz Luu, luu@caes.ucdavis.edu
There has been a lot of buzz out there about varietal honey and how best to understand and enjoy the honey bees' work.
The UC Davis Honey and Pollination Center is offering a one-day immersion into the complex world of honey. Each student will be guided through tastings and discussions laying the groundwork to understand the variety and nuance of honey. Presenters are master taster and Italian Certified Expert Honey Taster, Orietta Gianjorio and educator and Founding Director of the Honey and Pollination Center, Amina Harris.
Anyone who is interested in learning how to critically taste and assess honey should plan to register.
Honey Sensory Workshop
A one-day immersion in tasting and understanding varietal honey
 
Date: Thursday, October 22, 2020
Cost: $160
SOLD OUT - Please email Liz Luu, luu@caes.ucdavis.edu if you wish to be added to the waitlist.
---
How will this work?
The course will cover all the basics through lectures and tastings including:
Sensory evaluation and descriptive analysis
Mono-varietal honeys
Crystallization
Defects
Optional Tasting Package
Each student will need to be ready to taste an array of honeys. In order to ensure that we are all on the same page, plan to order the supplementary educational tasting package. What's inside:
7 unique mystery honeys (We don't want to influence your tastebuds in advance. You will learn which jar is which after an exploration tasting.)
1 UC Davis Honey Aroma and Flavor Wheel
1 UC Davis Honey Journal
VALUE: $70 / Student price: $45 plus shipping (international students please contact Liz luu@caes.ucdavis.edu for your pricing--registration deadline is September 5th)
Other resources offered
Online classroom setting to engage and interact with your fellow students
Question forum to use at your convenience
Honey tasting protocol and Pfund color guide
Honey Collection Library with over 35+ honeys and their plants
---
About our Presenters
| | |
| --- | --- |
| | With over 40 years in the field of varietal honeys, Amina Harris has a unique background as the founding director of the Honey and Pollination Center, UC Davis. Upon entering the Center's office, visitors gaze at the over 200 honey samples that line the shelves. "Understanding each unique varietal honey is what the Center is all about," explains Harris. The Center is focusing more and more on understanding honey and honey adulteration. She says, "We have no easy way to prove that the honey in the jar is what is on the label. Few countries have guidelines for varietal honey labeling and as more and more consumers select these varietals, it is imperative to train them to understand and taste for these differences." In addition to leading the Center, Harris is owner of Z Specialty Food, LLC, a honey company that has won numerous awards from the Specialty Food Association and the National Honey Board. |
| | Orietta Gianjorio has been working with the Center since 2014 as both a taster and a teacher. Trained as a 3rd Level Sommelier, Gianjorio is now also certified in the fields of olive oil, chocolate and honey. She is sought after as a judge in both olive oil and wine throughout California. She is a certified 'Expert', having completed all three levels, of the Italian National Register of Experts in Sensory Analysis of Honey. Gianjorio has amassed a collection of honeys and has been brought in as a leading taster for honey companies and courses. She explains, "I want our students to have a complete understanding of 'true to type' – pure varietal honey. They need to be able to tell when a mono floral honey is exactly what it says on the label – or if it is not." |