September is National Honey Month
And honey curried pecans
Each year, as this time of year comes around, it brings out an opportunity to reflect on cycles of our world. Last winter, bees of all types were hunkered down in their nests or hives. Come February, here in California at least, the early blooms start to break ground. By the middle of the month, almonds are in full bloom up and down the state. Bees feed on the nectar and pollen of the abundant and beautiful almond blossoms.
We always think of almonds, bloom and bees – but there are so many other edible nuts that begin to grow each spring. Throughout the central valley, walnuts, pistachios and pecans are pollinated by the wind, along with wheat, rice, corn, rye, barley, and oats.
September is nut crop harvesting season.  We know the cycle is continuing as almonds, pecans, pistachios and walnuts begin showing up at farmers' markets and in the grocery stores. Their presence heralds cooler months and winter.
Honey Curried Pecans
Each September, we celebrate National Honey Month and, almost by chance, edible nut crops. Take a look at the wonderfully researched recipes from the National Honey Board. There are so many to choose from. (Try the Skillet Salted Apple Crisp.) Remember, as you go forward, that there are many honeys to choose from and each has its own fabulous flavor profile. Investigate. Play. Cook!
Fresh nuts and the fall honey harvest come together in a celebration of flavor. These two items pair so beautifully and in so many ways.  The recipe calls for pecans, but try walnuts, too.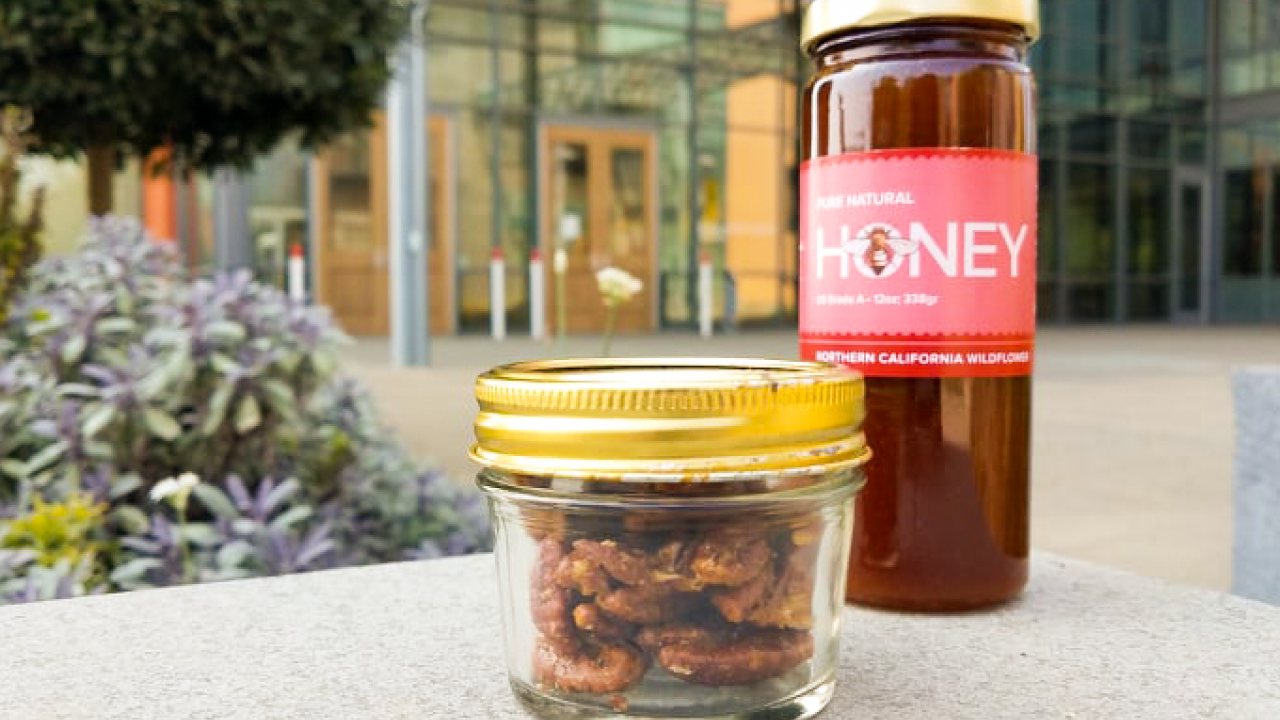 Recipe: Honey Curried Pecans
Makes 12 servings
Download the recipe here.
Ingredients:
½ tsp onion powder

½ tsp garlic powder

1 T Kosher salt

¾ tsp curry powder

¼ tsp cayenne pepper (use less for a milder spice)

2 T butter

2 T honey

3 cups pecan halves (or other nuts)
Instructions:
Preheat the oven to 250°.
Combine the spices in a small bowl and blend well.
Melt the butter and honey in a medium saucepan over medium heat. Next add the spice mixture, stirring until well combined. Add the nuts and stir until well coated. (Have more nuts available – you might be able to add as much as one more cup.)
Spread the nuts in a single layer on a foil or parchment paper lined backing sheet. Bake until dry and toasted – about 40 minutes.
Cool completely and share or store in an airtight container.