This Year's Food Story: Seasonings
Bring on the honey
This year's food story is herbs and seasonings - all kinds of regional aromatic mixes from all over the globe. Think za-atar from the Middle East, ras al hanout from North Africa, furikake from Japan, and adobo from the Latin/Caribbean countries. The blends are wonderful! Especially if you are willing to make them fresh (think Ottolenghi) and many of them combine cumin, coriander, turmeric, cayenne, allspice – exotic and wonderful. Intriguing too is that so many of these recipes use honey to boost the flavor. What we here at the Honey and Pollination Center find even more interesting is that the designing chefs don't seem to understand that each honey has its own flavor profile and some varietals will work better with these spice combos than others. Here's a sample we played with. Yummy spiced carrot salad.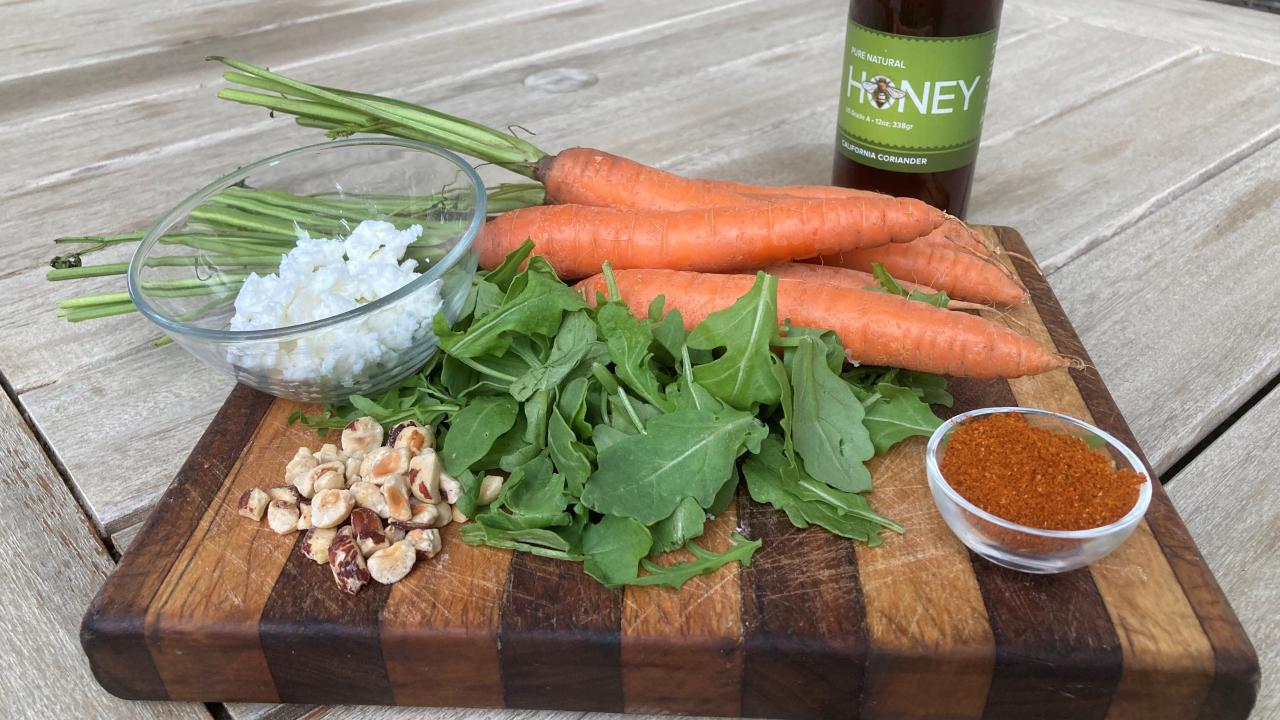 Plated Honey Roasted Carrot Salad
Adapted from the National Honey Board and Chef Brandon Hudson
Ingredients:
10 carrots with stems still attached

2-3 tsp olive oil

1 tsp ras al hanout+

1/3 tsp kosher salt

Good grind of black pepper

¼ cup coriander honey*

Prepared salad greens

3-4 T goat cheese (chevre)

¼ c roasted nuts, roughly chopped (hazelnuts are sweet and tasty)

Zest and juice of an orange
Directions:
Trim the stems off the carrots and peel. Toss them with olive oil, ½ tsp ras el hanout, salt, and pepper. Roast at 425 degrees for about 15 minutes turning halfway through.

Remove the carrots from the oven and baste them with a tablespoon of honey. Return to the oven for 1 more minute. Cool and cut in half lengthwise.

Plate your salad either family style or individually.

Put the prepared greens on the center of a serving platter. Lay the roasted carrots across the top. Crumble the goat cheese and the nuts over all. Drizzle another teaspoon of honey over everything.

Garnish with a bit of orange zest and a good squeeze of orange juice. Finally, sprinkle a bit of the ras el hanout over the top.
+Ras el Hanout is a spice blend found across Northern Africa. This fragrant mixture has cumin ginger, cinnamon, coriander, and a whole lot more! Find the blend in grocery and specialty stores or try a recipe online.
* Savory Coriander Honey is a wonderful complement to the spices found in Ras el hanout. The Honey and Pollination Center offers it for sale through the UC Davis Bookstore. You might like to try Sweet Clover Honey with its almost cinnamon red hot profile. And if you don't have anything special, don't let it stop you – just use the honey you have on hand!
NUTS! The recipe calls for hazelnuts which are sweet, especially when toasted. Almonds would also be wonderful, and perhaps more true to the origins of a Middle Eastern recipe like this one.
Primary Category